Double Success for Raiders at DSN Tournament of Champions

31 Aug 2012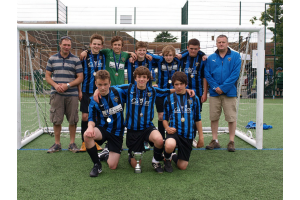 U15s and U10 Reds bring home the silverware.


Thirty football teams from around Dacorum descended upon Berkhamsted Raiders' state of the art Astroturf facility yesterday for the Dacorum Sports Network's Tournament of Champions.
Teams from Under 7, U8, U9, U10, U14 and U15 levels took part in the competition which was organised by Berkhamsted Raiders on behalf of the DSN as part of the Cultural Olympiad celebrations.
And there was double success for the home sides with Raiders U15s winning the U15 competition and Raiders U10 Reds triumphing in the U10s tournament. Both sides won their finals after extra time and penalties with the U15s defeating Kings Langley and the U10s overcoming Tring Tornadoes.
Other victors on the day were Chorleywood at U9 level and Aston Clinton in the U14 competition.
"It was a real honour to be asked to host the tournament for the Dacorum Sports Network," said Berkhamsted Raiders' Chairman Keith Pollard. "We think we did them proud on the day with great facilities, fantastic football and not a drop of rain!"
U15s - Matt Suckling, Sam Gray, Jack Phillips, Ben Chalmers, George Carbery, Oscar Suchodolski, Matt Pollard, Conor Naughton

U10 Reds - Ben Pierleoni, Olly Blackborough, Luke Cestrone, Joshua Maddison, Freddie Whiter, Matthew Blood, Charlie Smith, Anders Davis, Harry Gilks, Thomas Fisher